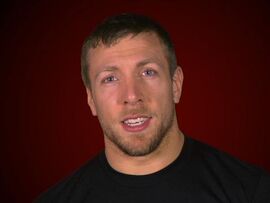 John Herbert Dillinger III
is a professional wrestler signed to
Future Bebo Wrestling
, where he competes on
FBW Unbreakable
. He is the current reigning
FBW Massacre Champion
Early Life
Edit
John Herbert Dillinger III was born August 28, 1990, in Los Angeles, California,the son of Maxine and Joseph Dillinger. He is the youngest of Four brothers – Mark, Steve, and Shane. After graduating from Cabrillo High School in Long Beach, California. Dillinger tried to become a professional soccer player, having a trial with Los Angeles Galaxy. Upon failing to make it into the team, he then looked to become a professional wrestler.
Professional Wrestling Career
Edit
Debut (2012 - Present)
Edit
Dillinger made his debut in a fatal four way match against Liam Cooper , Constatino and then FBW Trans-Tasman Champion and FBW Pot of Gold winner Maxine Blake. Dillinger won the match after pinning Liam Cooper . The following week Dillinger lost to Kevin Vipers by a lucky pinfall. At FBW Concussion Dillinger defeated Alex Sanders and won the FBW Massacre Championship. On the tour of Asia weeks later, Dillinger lost the title to Zack Richards. In Week two Dillinger tried to become Trans-Tasman champion but failed. Both Konvicts feet and Dillingers feet touched the floor at the same time and they had to race to the top of the ramp to become the new champion. Konvict cheated to win.
Other Media
Edit
Television
Edit
Dillinger had a small role in Nickelodeon show Drake and Josh in 2005.
Personal Life
Edit
Dillinger writes right-handed. He is the great great great grandson of American Bank robber John Dillinger who he was named after. He has said he is a fan of the video game series Call of Duty and noted that it was his favorite game series Dillinger is also a fan of the MLS club Los Angeles Galaxy and English Premier League club Arsenal FC. Dillinger currently dates one of his childhood friends Lori Beveridge who he has been dating since 2001.
In Wrestling
Edit
Finishing Moves
Lebell Lock (Omoplata crossface) - 2012
Game Over (Fireman's carry cutter) - 2012
Signature Moves
Corner Dropkick
Diving Headbutt
Flying Forearm Smash
Roundhouse Kick
Running Leg Lariat
Suicide Dive
Spinebuster
Championships and Accomplishments
Edit